For the start of our trip see week 11.
Monday
After two nights at the foot of Mt. Maunganui, we built down our tents today to leave towards Whitianga (wh spoken as f in Māori). On our way we took a short detour to visit a giant L&P bottle Sandra and Chas wanted to see. L&P is a soft drink company based in New Zealand.
We then stopped by at a winery just 30mins before Whitianga. When we planned the trip earlier, Chas recommended this winery as it is his favourite winery in New Zealand. The winery was a rustic, old-looking corrugated sheet house that had some leaks in the roof where some raindrops came through. We were welcomed by an interesting looking guy. Hard to guess his age. I'll let you just have a look at the photo 🙂 He was definitely funny and probably permanent half-drunk 😛 Nevertheless was he really funny and knew quite a bit German. Words like "Schnapsdrossel" (Schnaps=booze, Drossel=thrush) or "beschwipst" (=tipsy). When two Chinese guests entered the tasting room, it appeared, that he also knew some Mandarin words. Probably the same words in every language 🙂 He also seemed to never stop talking, knowing a lot of stories 😛 So while Sandra and Chas tried one spirit after another, I just listened to his tales.
After my both companions decided that they had enough, we went to the dining room to eat some pizza. That's how Chas convinced me to actually go there 😉 And the pizza was good! They offer only three different kinds. A Margarita, a vegetarian and the special with everything on it. Exactly, I went for the special one 🙂
Waiting for the pizza, Chas and I played some table tennis. He was quite upset that he would lose every time (never told him than I played for several months in a team 😛 ).
After we were done with our lunch break, Chas challenged me in some Boules matches in front of the winery. This time I won without having been in a Boules club ever – sorry Chas! 😛
Next stop was more of a failure. We went to a place called "Hot Water Beach". The idea is, that due to some geothermal activity, the water at this beach was heated. You only need to dig deep enough in the sand, Chas said. So we tried and digged many wholes. At the same time we were wondering, why we were the only ones at that beach. Okay, the weather wasn't very good but as the water is supposed to be warm anyway, there should be at least some people.
After a while we decided to abort our efforts and ask a guy at a near café where to find the hot water. He told us that we came at the wrong time. High tide replaces the hot water and we would have to come back at low tide. That's either at 1am that night or 3pm the next day. And as had already plans for the next day, we thought we should come back at midnight to try our luck again. But at that point we just left Hot Water Beach without hot water 🙁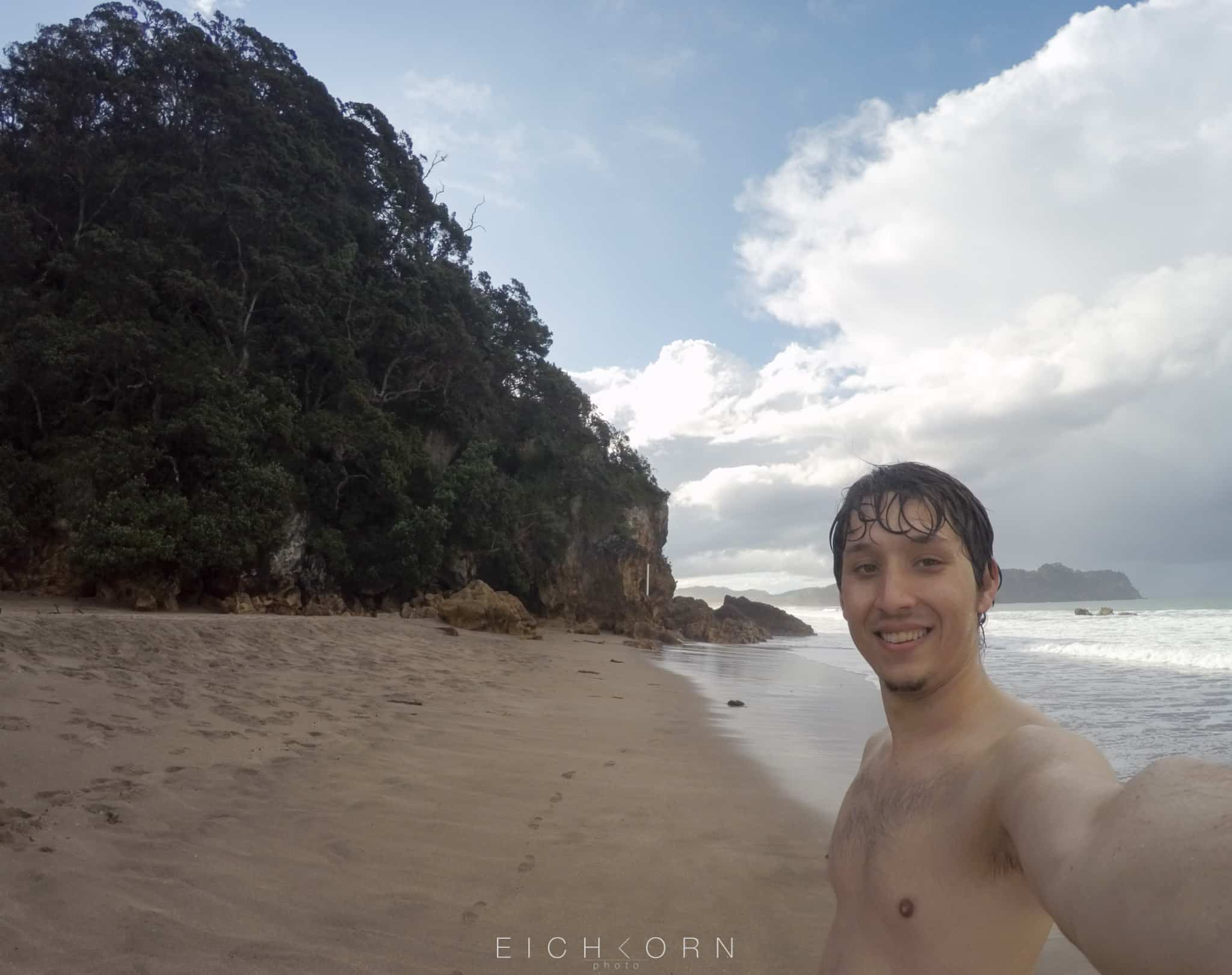 30 minutes later we arrived at Ann's, a friend of Chas, in Whitianga. Ann is a very welcoming, older lady that offered us her house for two days. She also has planned some activities for us such as a trip on a glass bottom boat for which she already had some free tickets for the next day.